Friday, September 15, 2023 -

9:00am

to

10:00am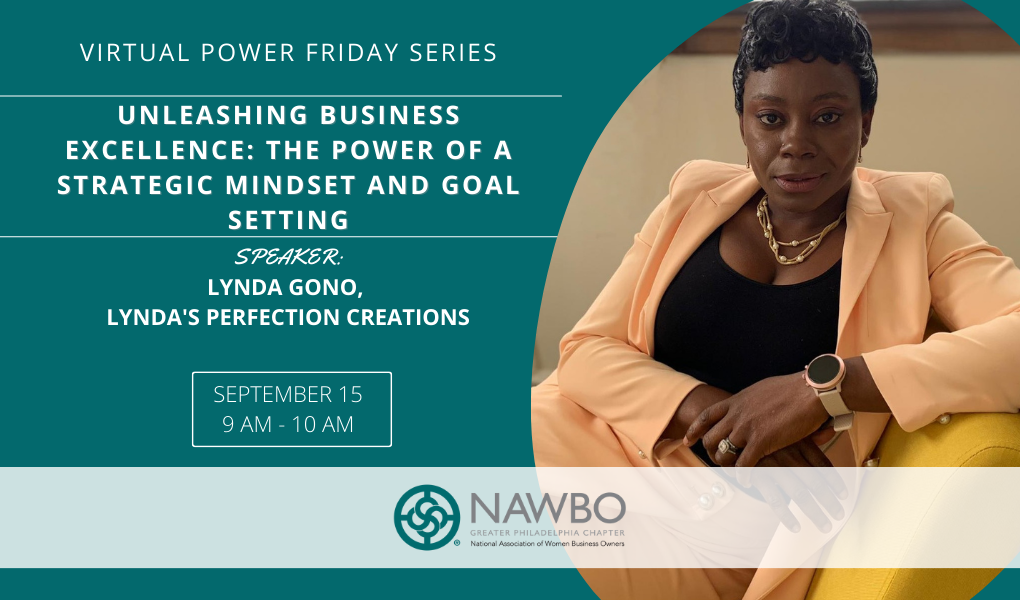 Power Friday--your weekly NAWBO Greater Philadelphia connection to education and networking!
Unleashing Business Excellence: The Power of a Strategic Mindset and Goal Setting
Lynda Gono, Lynda's Perfection Creations
Join Lynda Gono, a seasoned Master Certified Events & Wedding Planner, Certified Design Specialist, and Certified Florist, in an inspiring exploration of business mastery.
Embracing a Business Mindset: Witness Lynda's evolution from planner to visionary business leader, driven by over 10 years' experience, placing her at the forefront of the Event & Wedding Planning industry.
Importance of Goal Setting: Unveil the synergy of creative brilliance and strategic acumen that defines her approach, resulting in extraordinary achievements.
Creating Measurable Goals: Dive into the pivotal role of goal setting in sustaining enduring successes within your business, elevating your endeavors to new pinnacles.
Achieving Goals and Evolving: Acquire pragmatic insights on cultivating a transformative business mindset, navigating challenges, and fostering innovation.
Inspiring Others: Witness how Lynda's journey, her ability to turn dreams into reality, and her triumph over COVID-19 challenges resonate with your entrepreneurial journey.
Conclusion: Prepare to harness the power of strategic thinking and goal setting, propelling your business to unprecedented levels of accomplishment and resilience.
Meet the presenter:
Lynda Gono, a Master Certified Events & Wedding Planner, Certified Design Specialist, and Certified Florist, propels Lynda's Perfection Creations. A visionary in Event & Wedding Planning, she seamlessly blends creativity with strategic acumen. With 10+ years' experience, Lynda evolved from planner to accomplished business leader, embracing a savvy mindset. Embarking on her journey in 2019, her evolution underscores prowess in business savvy. Her keynote delves into this and paramount goal setting. Renowned for turning dreams into reality, her narrative inspires peers to cultivate transformative mindsets, harnessing goal setting for lasting success. Triumphant in navigating COVID-19 challenges, Lynda's adaptability and resilience shine.
For more information about Lynda:
FB & IG: @lyndaperfect.creationsevents
Registration:
Power Friday is free to attend for both members and guests. There is no limit to how many Power Friday meetings members may attend.  Guests may attend up to 3 Power Friday meetings.