Friday, May 19, 2023 -

9:00am

to

10:00am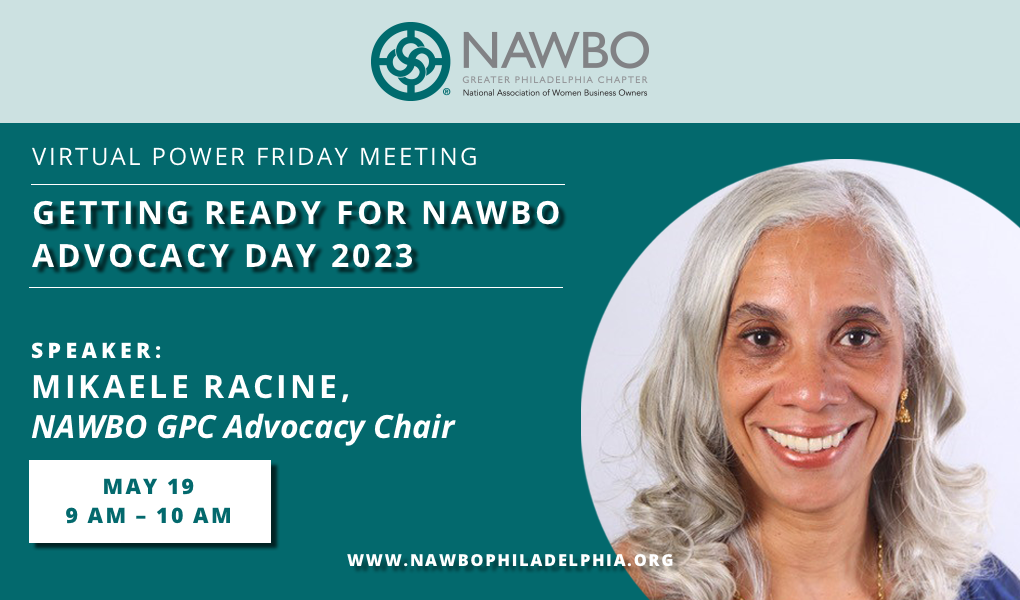 Power Friday--your weekly NAWBO Greater Philadelphia connection to education and networking!
NAWBO Advocacy - Power Your NAWBO Voice
Presented by Mikaele Racine, Chair of Advocacy Committee
NAWBO was founded in 1975 to be the first advocacy organization for all women business owners. NAWBO was instrumental in the approval of HR 5050 in 1988 that acknowledged the importance of female owned businesses and removed barriers to funding for women business owners. NAWBO advocates on behalf of women business owners, regardless of political affiliation, encouraging and supporting bipartisan legislation focused on building and strengthening a sustainable business economy. NAWBO's bipartisan approach guarantees us a seat at the table, regardless of the current political trends, assuring that decision-makers on both sides of the aisle hear the women-owned business voice.
Come and learn about the NAWBO Advocacy Agenda and this year's Advocacy Days on June 6 and 7, 2023. This year's Advocacy Days will focus on 4 core policy areas. 
Addressing the Needs of the "Microbusiness" and Encouraging Emerging Entrepreneurs
Hiring Squeeze
Implementation of the Bipartisan Infrastructure Act: Broadband Expansion
Accessing Capital through Increased Financial Literacy Education
Raise your voice in support of women's economic growth and entrepreneurship!
Meet the presenter:
Champion Dentistry is a family-owned dental practice that has been making healthy, bright smiles for over 30 years in West Philadelphia. Dr. Champion is a general dentist who received his dental degree from Howard University. Mikaele Racine is the chief operating officer at Champion Dentistry and focuses on management and operations.
Mikaele received her B.A. in economics and political science from Chatham College and a M.S. in management and policy analysis from Carnegie Mellon University. She spent over 30 years in a corporate career working for several large global companies in multiple functions, including management consulting, information technology and human resources. Mikaele is a graduate of the PowerUp Your Business and Goldman Sachs 10,000 Small Business Programs. She is currently on the board of the National Association of Women Business Owners Greater Philadelphia Chapter, where she serves as the Advocacy Chair. Mikaele will moderate our discussion
For more information about NAWBO Advocacy:
Registration:
Power Friday is free to attend for both members and guests. There is no limit to how many Power Friday meetings members may attend.  Guests may attend up to 3 Power Friday meetings.