November 11, 2019
Written by: Deborah Davis Huberfeld, H.G. Services, Inc
Julia Brufke Wenger - Phoenix Tax Consultants LLC and Bala Financial Group, Inc.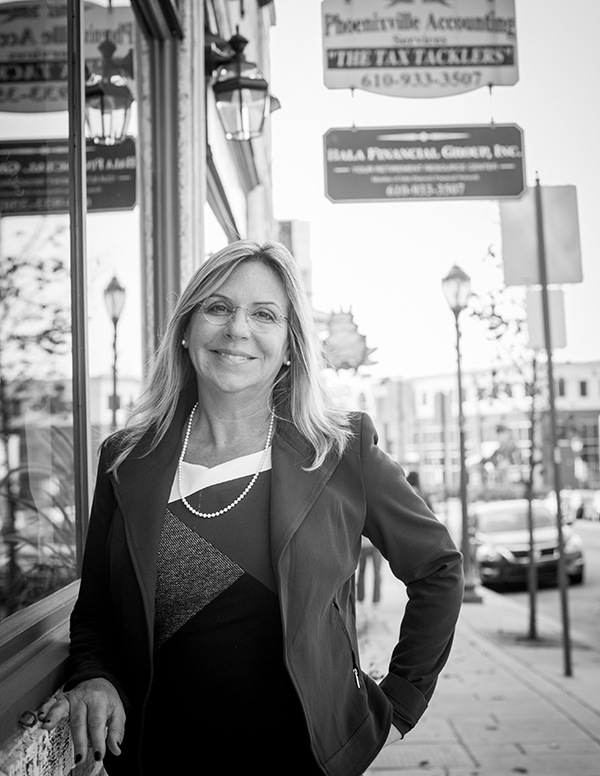 Julia Brufke Wenger characterizes herself as a "serial entrepreneur," which translates to mean a very busy, very dynamic woman business owner.
To offer some evidence, she currently owns two businesses: the WBENC certified Phoenix Tax Consultants LLC, which she founded 29 years ago, and she is also a partner at Bala Financial Group Inc., owning her branch in Phoenixville, PA.  The firms specialize in tax preparation and assists clients with building financial plans.
Her firm recently was named #12 of the fastest growing area businesses by The Philadelphia inquirer, and was nominated and honored as the Woman of Distinction by the Philadelphia Business Journal. She has written for the Journal of Financial Planning, and has a national podcast coming up for this organization.  Wenger has served as a mentor in NAWBO's Semicircle program, is currently co-host of NAWBO's Phoenixville Power Friday group.  She is active in her business and professional communities, and as she says, "I don't have a ton of spare time."
Although relatively new to NAWBO, Wenger says "it's a great network because I believe that women business owners have a special bond.  We juggle many things in our lives and appreciate and support each other.
"One major attraction was seeing how dynamic other NAWBO women are, "she adds.  "I noticed that NAWBO women go out of their way to help each other with a level of focus and energy that's terrific.  I also enjoy that there's a national presence, with lots of resources we can tap." Wenger hopes to support other female business owners and provide, as a professional and experienced business owner, tactical tax preparation and personal and business planning strategies that empower and transform peoples' lives and businesses.
"I purchased my tax business after my predecessor passed away in 1990. Obviously, I have been at this for a long time! I saw the need to add financial planning because my clients needed someone to trust that was dedicated to helping them prepare for their future and reduce taxes," she says. "I became a Certified Financial Planner and eventually received my master's degree in financial services. I have dedicated my career to studying the best strategies and solutions in the business. Only 14% of women are CFP®s so I have enjoyed being a pioneer in a men's career!"
As she plans for continued business growth, Wenger points to having scaled through all sorts of efforts in marketing, advertising and other channels to aid expansion.  "The biggest wakeup call I received was that acquiring other businesses was a strategic way forward," she says. "I bought another tax company, and moving forward, have a couple more in the pipeline."
Wenger's first priority goal for the coming year is implementing her "customer dazzle" program. There is plenty of competition in her field, she notes, so she wants to do everything possible for clients – and then some. Another goal is to improve technology, with client portals and planning software offered to clients so they can participate in monitoring their finances on demand.
"My greatest challenge is staying on top of change," Wenger says.  "Things are changing by leaps and bounds.  We are constantly seeking the latest information and striving to be an industry leader in the Philadelphia area. "The best advice I have received is to not only work in my business but to work on my business. This is the only way to grow and get better. As we scale, process is everything. Taking the time to think this through and implement best practices pays off."
Wenger advises women entrepreneurs "To think big! I wish I had the knowledge when I first started that a growth plan is important to track progress and set goals. I have no problem with that now and it has been very rewarding to watch my business grow." She also notes it's important to remember we're only as good as the people behind us. "I recognize my strengths and weaknesses and could only succeed by delegating those things that are not my core competencies," she says.   
"Also, corporate culture is everything. Decide what you want your company to represent and offer and make that a priority! I do hope to empower women at every stage by helping them to become more strategic with their finances and building their business. This is very satisfying and why I have enjoyed showing up to work for the last three decades!"
You can find Julia on LinkedIn: https://www.linkedin.com/in/juliewenger/